We are still very much in the middle of a pandemic with coronavirus (COVID-19). It is obvious now that the U.S. government is taking all of this seriously. We all should. Earlier this week, we heard President Donald Trump strongly encourage social distancing and congregating in groups less than 10 people.
This matters. I've never seen anything like this in my lifetime. New York is shutting down restaurants. Ohio has closed all bars and restaurants statewide. And their reasoning is to promote social distancing.
So what is social distancing? It is the intentional effort from the Department of Public Health's attempt at slowing down the spread of a highly contagious disease by requiring large groups of people to not meet. You can practice it on an individual level. We can choose to self-quarantine and not gather in large spaces or in close proximity to one another.
If you remember the the H2N2 Influenza in 1957 (we called it the Asian Flu), health professionals are now certain it spread due to large gatherings like sporting events and festivals. We learned something then. Coughing on people, touching the same surfaces as people spreads the disease.
The coronavirus is very similar. It is highly contagious. And we have not learned how to slow it down with medicine yet.
Think about these numbers. On Feb. 25 there were over 78,000 cases and almost 2,500 deaths worldwide. Today, three weeks later, we are over 180,000 cases and 7,000 deaths.
In America alone, according to the CDC's website as I am writing this, there are over 7,000 cases with 97 deaths. If this rate were to continue, in three months we will be at millions infected and hundreds of thousands dead worldwide.
This is not to alarm us, but inform us. If you have not taken the coronavirus seriously yet, it's time. We must practice social distancing. No groups larger than 10. Read all you can. Inform yourself. Know the signs. Watch for symptoms. Fever. Cough. Shortness of breath.
Call your doctor if you think you have been exposed to COVID-19 or are developing symptoms. These symptoms can lay dormant inside of you for up to 14 days after exposure. This is why social distancing is so important. We could spread it or catch it by being around people that don't even know they have it.
This, rightfully, has caused concern and panic for local governments. Schools are closed for the foreseeable future. Large gatherings such as the Wayne Theatre, Zeus, or the Blackfriars are closing for extended periods of time. Chick-fil-A has closed its dining hall and public restrooms and more restaurants are coming.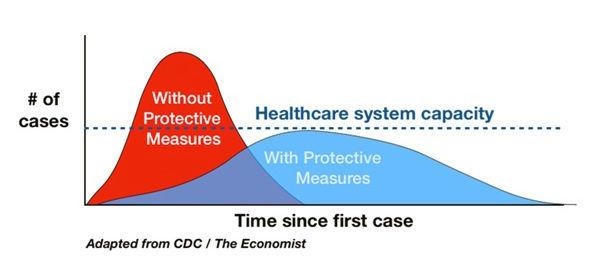 These companies are taking the lead on what is being called "flattening the curve."
If you haven't seen this chart yet, here's what it means. By practicing social distancing, we are giving the health care industry a fighting chance to treat the disease.
Let's say you and I will both contract the disease and we need to go to the hospital. By practicing social distancing, we are slowing down the spread of the virus, meaning we get it days apart and not at the same time. If less people get it less often that means, even when we both get it, we can share the same hospital bed.
Social distancing helps flatten the curve.
We can do this. It will be challenging, and it will be depressing. But as a spiritual leader in this community I want you to know that God is with us during this time. God is not causing the spread of COVID-19. God is not mad at humanity; rather, God is suffering along with us and strengthening our resolve to flatten the curve.
In times of real stress for families, I often remind them that we can see God through the tireless work of the helpers like our health care professionals and the teachers and school administrators. God is present in the small, yet significant minds of a child who know to ask us if we are ok. God is present with us, and that Presence has the power to keep us motivated and participating in a massive country-wide effort to flatten the curve.
So, with the strength of the Lord as our guide, let's flatten the curve by practicing social distancing.